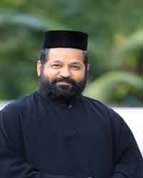 Fr.Thomas Abraham
Kadapanagattu,
Vicar St.Thomas Valiapally
Ranny, Kerala,India
"It is such a pleasure to work with a company that cares about what happens to you after you purchase the product. We have been using eChurch v3.5 since 2012 year. We have more than 6500 members in our church spread into 7 Kurishpally's.
KUJOEVA Technologies has done a great job with eChurch V.3.5. The user friendliness of this Software allows for quicker and easier data entry.
One of its key features is the ability to search/view a member or his dependents profile without providing any code. Another key feature is that, they made it so simple a layman without any IT knowledge or accounting background can work with this Software.
This software is capable of managing the whole administration of a Church such as Membership Management, Parish hall management, Inventory and Accounting. KUJOEVA's round the clock support is commendable. "