Kujoeva's eSchoolERP is designed and developed by a team of highly experienced professionals of School management and IT to cater the needs of any schools in India and abroad with latest technology. eSchoolERP is module based software to manage any Institutions administration. The school can opt any single or multiple modules based on their urgent requirement and budget. Later on they can introduce other modules. Payment of the Licence fee can be on easy methods.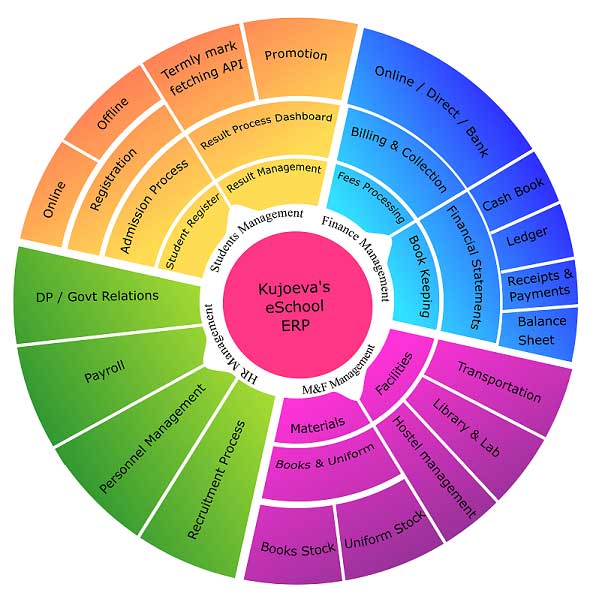 eSchoolERP is now being used by many schools in India and abroad. It is multi- user, multi functional system with privileges on specified modules and Functions.
eSchoolERP.v45 is now available with the following independent and interlinked modules.
STUDENTS MANAGEMENT PROCESS (SMP)
SMP module manages various activities and performance of a student starting from the enrolment till he/she leaves the Institution. This module helps to manage Students Registration, Admission, Students Activities, Examination, Result Processing, Promotion, Certificates generation etc. Each sub-module has informative and important alerts and MIS reports and charts. Our new version of eSchoolERP will have facilities to trace where about of a student by parents and school authorities (available only on demand)
FINANCE MANAGEMENT PROCESS(FMP)
FMP module meets the complete process of Accounting and Balancing of the Institutions Finance. The module is inter-related with students Fees Process. On collecting the fees the system automatically register the transactions to the Students Fees Register and related Account heads. Book-keeping procedures have multiple integrity check to register the transactions to correct accounts. Final financial statements are available on real time and on a back date.
HUMAN RESOURCE MANAGEMENT(HRM)
HRM is designed to manage recruitment till an employee leaves the Institution. This module has functions available for staff recruitment, personnel management, performance` appraisal, self assessment, salary and Taxes process and government Relations. This module has many MIS reports and Certificate generation facilities. Portal services will be available for the staff to register their leave, attendance, down load payslip and other services(available only on demand).
FACILITIES AND MATERIALS MANAGEMENT (FMM)
FMM module has many sub modules and functions to manage purchase and disburse of stationary and uniforms. Students Transportation, Library Management, Hostel Management are sub modules available on demand.
CUSTOMIZABLE
eSchoolERP is Personalised with the School logo and names of the school on each reports and charts. The system is fully customisable where ever required. Reports and progress cards can be made available on portal services for students and parents.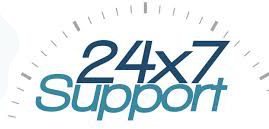 KUJOEVA provide round the clock support to all our Softwares remotely and on site whenever required
FEW OF OUR VALUABLE CLIENTS

CARMEL.CONVENT..ENGLISH MEDIUM SCHOOL
KERALA,INDIA.
Implemented in 2014 (Having students more than 1500 of CBSE Stream).

LITTLE.FLOWER.CONVENT SCHOOL,
PUNJAB,INDIA.
Implemented in 2015 (Having Students more than 4000 of ICSE Stream).

ST..FRANCIS.CONVENT.SCHOOL,
PUNJAB,INDIA.
Implemented in 2016 (Having students more than 3500 of ICSE Stream

ALPHONSA.CONVENT.SCHOOL,
PUNJAB,INDIA.
Implemented in 2017 (Having more than 1000 students of ICSE Stream)